Back in 2014 when I was a young journalist barely getting by, I tried applying for a US visa with dreams of visiting New York. Tried to Google "US visa application guide Malaysia" and "guide to applying for US visa" among other things and only managed to find some dated blog posts and some answers from forums. 
Back then, there wasn't a proliferation of lifestyle websites that offered good guides, and information was sparse, to say the least. Forums offered different warnings and advice to get approvals and blogs seemed to differ in their "guides" too. Today we're going to provide the most straightforward US visa application for Malaysians applying for a tourist visa.
US Visa Application  – Myth vs Facts
Myth #1: In the early days, the biggest myth about getting your US visa approved was that you had to arrive before the embassy opened to secure your interview. Actually, arriving before the embassy opens does not increase your chances of getting your visa approved. Just arrive 15 minutes before your allotted time and you'll be ushered right in, but never arrive late.
Myth #2: Other old wives' tales include having all your flights and accommodation information ready to increase your chances of being approved. We didn't book a flight before applying for our visa and we didn't need to show proof of accommodation either. We did, however, have to show proof of employment locally and other supporting documents, which we'll get to later. 
So while having flight and accommodation information can be helpful, it is not required for the visa application process. However, proof of employment and other supporting documents are typically required.
US visa application Guide 2023
There are many kinds of visas available but generally, for tourists, it would be a Type B-2 visa. The following are the steps needed to get your US visa: 
Step 1: DETERMINE YOUR VISA TYPE
Most countries have a variety of visa types depending on your purpose of visit, and the US is no different. It's important to first determine the right visa type for you, before proceeding with the application process. In this guide, we will be focusing on the application process for the B-2 Visitor Visa.
US visa types are generally separated into Non-immigrant and Immigrant visas. Below are some common visa types that would apply to most Malaysians.
It's recommended to verify all these details with an official source from the US Department of State
STEP 2: Get your picture taken According To US Visa Requirements
Head to any photography store that takes passport photos and get a photo taken according to the US visa requirements. Here are some things you should take note of:
Size is 2 x 2 inches – Any professional vendor would know the size but it's important that you know as well.
The photo must be in colour
The background is white or off-white
The photo must be taken within the last 6 months with a neutral expression.
Eyeglasses are not allowed except in rare circumstances. Hearing devices are permitted. 
We take the photo first because next, you'll need it to fill up a form.
Step 3: Fill up the DS-160 form 
The DS-160 form is a comprehensive form that not only collects personal information but information about your stay, US contacts, family, as well as work and education. 
Select Visa type B and proceed to fill in your information. Here you can specify if you have travel plans or not. If you do, you can input dates for your flights and your flight details. You can also specify the locations in the US you'd like to visit. 
You can preview the form here and see if you're missing any vital information. Here are some things to note:
No accommodation information is required so you don't have to worry about that yet.
You will need to attach a soft copy of your photograph to this form.
Once you've completed the form, print your confirmation and ensure the barcode is legible. You'll need to bring this to the embassy. You may also show this confirmation via email and have the confirmation sent to your email.
Here are some tips:
Keep the DS-160 number that accompanies your barcode. You'll need it for scheduling your appointment with the embassy to interview for approval. 
Bring at least 1 physical photograph to the US Embassy that meets the requirements. In case the soft copy fails to attach
For an overview of the process, you may refer here.
Step 4: Pay your Visa fee
First, create an account at ustraveldocs.com/my. Ensure your first and last name matches your passport.
The visa fee or MRV fee for tourists is USD160 and that will be charged to you in RM. At the time of writing the rate is RM4.4 to USD1 which is RM704.
If you are applying for multiple visas for your family or group, only one payment is required. The fee paid is non-refundable, so even if you fail your application the first time, you'll need to pay USD160 to apply again. 
If you encounter any errors while paying online do not try to pay again. Check your bank account to see if the money was transferred. You may email [email protected] if your transfer was successful but you still cannot schedule an appointment. 
There are multiple ways to pay this fee: 
Electronic Funds Transfer (ETF)
After logging into your profile and selecting the Electronic Funds Transfer (EFT) option while on the payment screen. Your unique Virtual Account number will pop up on the screen. You will use this number when processing your online payment.

Make only one payment per Virtual Account number as the payment is non-refundable. You

must keep the Virtual Account number

that you use to make your bank transfer. You must have this number as proof of payment to schedule your visa interview appointment. It is the applicant's responsibility to save this number.

Enter the following beneficiary details in your online banking form to complete your ACH/Giro Transfer(IBG-MEPS) in MYR only:
Beneficiary Name: BAMB MY STANLEY US VISA SFA-EXT
Beneficiary Bank: Bank of America Malaysia Berhad
Bank Code: 100002076 (or corresponding selection for Bank of America Malaysia Berhad)
Account Number: 'Your Unique Virtual Account Number' (14-digits)
Amount: xxx.00 MYR Only
Note: DO NOT select the Giro 2nd Validation for this Bank Transfer
Upon completion, print out the bank receipt. You can then return to your account to schedule your appointment(s) with the Virtual Account Number as your "Receipt Number". 
JomPAY
Before you make your payment, you must print the "U.S. Visa Application Deposit Slip

"

You will see JomPAY Logo on the Deposit Slip where you will be given a unique Ref-1 number.

You will use this number when processing your online payment.

For each new transaction, you'll need to click on the link again to create a new slip as each Ref-1 number is unique. 

Log in to the Internet or Mobile Banking of your bank and click on JomPAY.

Enter the JomPAY Biller Code and Reference Number as shown below with payment from your Current, Savings or Credit Card account.
Biller Code: 5116
Reference Number 1: "As shown in your printed Deposit Slip" (14 digits)
Upon completion, print out the bank receipt. You will then schedule your appointment using the Ref-1 as "Receipt Number".
Cash at bank
Before going to the bank, you must print the applicable "U.S. Visa Application Deposit Slip".
Write your mobile phone number on the printed deposit slip.
Take the printed deposit slip with you to pay your fee at any AmBank branch. 
Upon receiving your payment, the bank will issue you a copy of the receipt. Save your receipt
Note: Your receipt

cannot be replaced

if it is lost.

You will then schedule your appointment using your "Bill A/C No."  as the "Receipt Number"  as shown on your receipt.

If you are paying for more than one applicant,

DO NOT make a lump sum payment

for all the applicants. A receipt number which is printed on the deposit slip is required for each visa application fee payment for EACH applicant to schedule an appointment. 
Do refer to the official documentation for the bank and payment options to verify the processes explained above.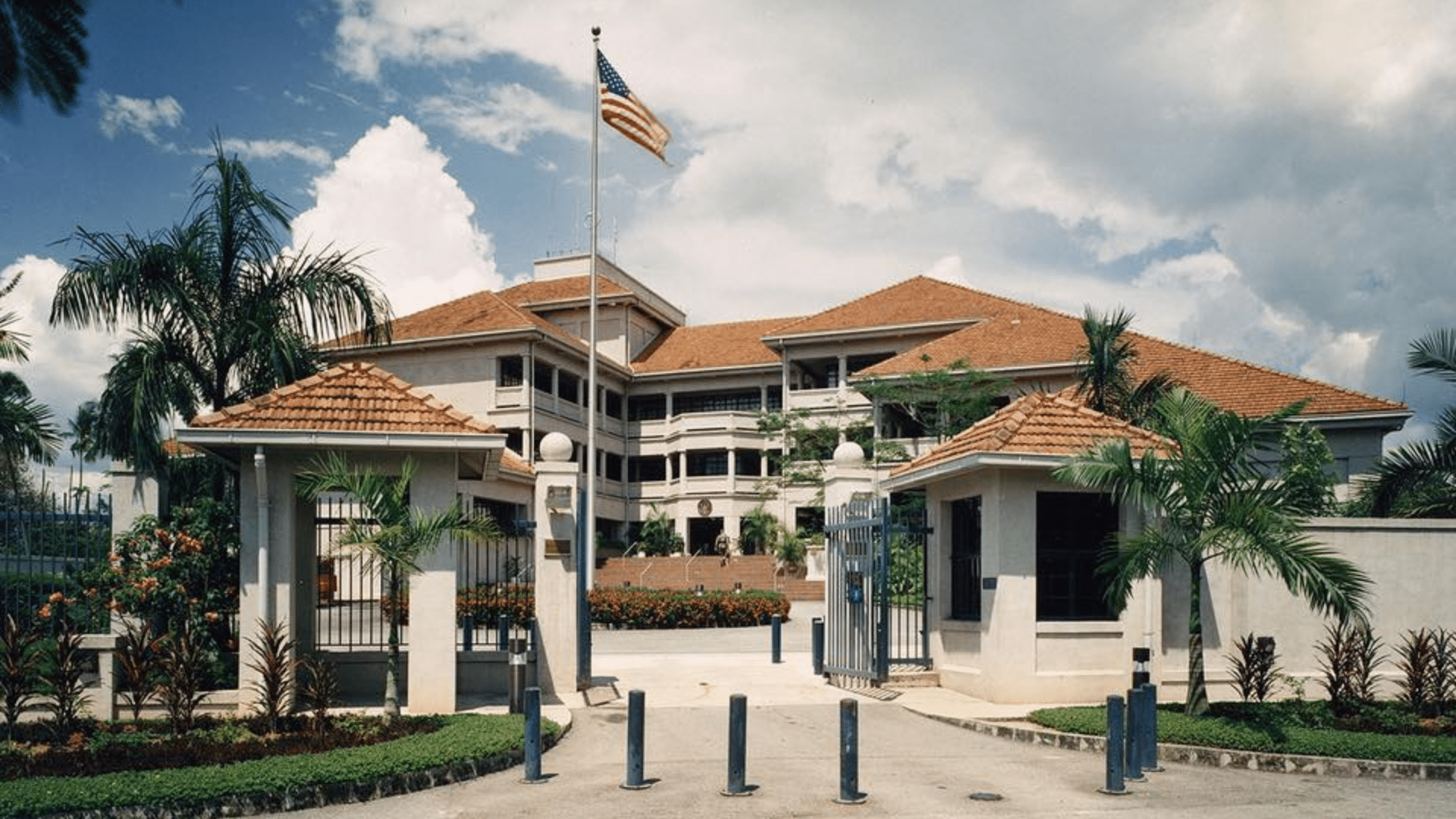 Step 5: Schedule an appointment with the embassy
You may schedule your appointment online (scroll to the bottom of the web page to the "More Actions" section) or via their call centre.
Once you have an appointed date and time, make sure you have these documents ready in a clear see-through folder (to comply with security restrictions):
A valid passport with at least six months of validity 

Visa application fee payment receipt

DS-160 confirmation page 

Appointment confirmation page 

One recent photo according to the requirements
The US Embassy in Malaysia can be found at 376, Jalan Tun Razak. There's no parking there so make your transportation arrangements ahead of time. You may choose to park at Menara See Hoy Chan and walk over or take the LRT to Ampang Jaya. It's a bit of a walk from the train station, but it's better than getting your car towed. 
Once you've arrived, you'll enter at your appointed time and will be required to surrender your phone or battery-operated media devices, large bags, food items, sealed envelopes or packages, cigarettes, sharp objects, and weapons. 
Pro tip: As we've debunked the myth about arriving too early, just come about 15 minutes before your appointment to reduce your waiting time. but do not arrive late.
You'll be ushered to another room where you will wait for your name to be called after which you will face the interviewing officer. 
Don't worry, the interview won't be done in a separate interrogation room like in cop shows, it will be done over the counter like at the bank. 
Additional documentation may be needed according to the US Department of State website. Examples of these documents according to the site are:
Documents supporting the purpose of your trip

Your intent to depart the US after your trip

Your ability to pay all costs of the trip 
It can be confusing to figure out what kind of additional supporting documents are required for your trip. A good tip to figure it out is to understand the purpose of the documents. In this case, US immigration officers want to be convinced that you will depart the US after your trip. 
In other words, you can ask yourself "how can I prove that I want to return home after my trip?"
Personally, our interview officer requested our bank account balance, our pay slip, our current place of employment, and any outstanding loans (we had a car loan). These documents seek to prove that we do not intend to stay in the US after our trip. 
We looked at a viral post about applying for a US visa recently and from the comments, we parsed that the interviewing officer at the US Embassy will ask questions and require documents that will establish your intent to return to your home country.
We've read varying accounts from two questions to over 20 questions being asked at the interview. So we wish you all the best. 
Once you're approved (or rejected) you'll know on the spot and you'll surrender your passport to be processed. 
Step 6: Passport Collection
Depending on their workload, your visa should be ready within 2 weeks and you can choose the Aramex courier service to deliver your passport to you with premium delivery for a fee (RM60 for Peninsular and RM70 for East Malaysia). 
Otherwise, you should get an email to confirm your visa approval with instructions to collect your visa at the Aramex Main Office at No 12C, Hedgeford Innovation Park, Jalan Tandang, PJ. 
To collect your passport from Aramex, you must present the following:
Original government-issued photo ID (e.g. NRIC)

Your Appointment Confirmation Letter

Copy of the email or text message

If collecting for self and dependents, Appointment Confirmation Letter/Visa Renewal by Mail letter is needed
And there you have it, our guide to applying for a US visa.
We've tried to make the process as easy to understand as possible, but processes may change. So we encourage you to check to read up about the latest visa application process yourself on the US embassy site or the ustraveldoc.com/my website for their tutorial. 
While it may seem complicated and risky (the USD160 is painful if you fail), the whole process was really quite smooth for us even way back in 2014. 
The most nerve-wracking portion of the visa application process is the interview and if you've got nothing to hide, you should glide through it. As we said, just have the necessary documents to prove your intent to return home. 
For freelancers without a permanent job, you can provide proof of upcoming gigs or proof of outstanding commitments you have here in Malaysia. A bank statement with consistent income will also help your case. 
Typically, the visa lasts for 10 years, but we've read instances of visa approvals of 6 months only. We've not met anyone who has received the 6 months visa so take that with a grain of salt. 
Once you're in America, you can stay for a maximum of 180 consecutive days before you're required to leave. You are not allowed to work during your stay. 
Also, with the visa, you're allowed multiple entries into America. 10 years is a long time and America is a huge country with lots to see and do. If your current passport has expired, you can still present your updated passport with the old passport containing the visa. 
Your US visa is not automatically transferred to each new passport that you make so remember to keep your old passport with you if you want to continue to enter the US. 
Ready for an American rodeo? 
REACH OUT TO US at +603 6286 6288 or
[email protected]
You may also be interested in:
Situs Bandar Togel Online Terpercaya bisa anda akses langsung di Togelcc Prediksi, TOTOCC adalah situs bandar togel dengan pasaran togel terlengkap. Anda bisa bermain langsung dan melihat hasil langsung dari togel hari ini hanya di TOTOCC.COM